"Caillou Four Seasons Of Fun"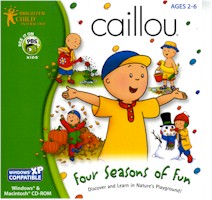 Caillou Four Seasons Of Fun Description

In Caillou Four Seasons of Fun, Lovable, playful Caillou invites you on a four seasons romp through the magical world of nature. From Winter's snowy wonderland to summer at the seashore, every moment of this charming adventure delights the senses and tickles the imagination. Every child loves the great outdoors! Bring the magic of nature inside with Caillou's whimsical Four Seasons of Fun. DraWing on familiar themes and settings like weather and the playground, this colorful adventure inspires creative play, imaginative self-expression, and a lifelong love of learning!


Caillou Four Seasons Of Fun Skills Learned:

* Letters
* Numbers
* Shapes
* and more!

Caillou Four Seasons Of Fun Features:
* Play with Caillou through every season of the year!
* Explore interactive learning games like raking leaves at the Spelling Playground or bouncing a ball to create rhymes.
* Enjoy clickable animations and memorable songs.
* Extend the excitement beyond the computer with fun printable activities.
* Build important skills like letters, numbers and shapes – plus an appreciation of nature!
Caillou Four Seasons Of Fun Screen Shots
Product Title & Image

Publisher

Age Level

Requirements/Other
Caillou Four Seasons Of Fun

Win XP, Vista,
Win7, 8 & 10


(Not MAC Compatible)




Join Caillou and his friends as they teach your child preschool thinking skills. Play in English, Spanish, or French. Entertaining activities provide hours of fun and learning, and they're different each time you play!

(CD in Gift Quality Jewel Case)

Want To Tell A Friend About Smart Kids Software!!

  (832) 741-4244

(832) 547-2205

(Monday-Friday, 9:00AM-5:00PM, Central Time)

Customer Service Email: Smartkid6@smartkidssoftware.com
Copyright© 1997-2016 Smart Kids Software for all your discount educational software needs! All Rights Reserved