Smart Kids Software began as an entrepreneurial effort by its' founder Max Martin, in 1992. Max's vision for an emerging educational technology industry lead to the development of the first Smart Kids Software storefront, located adjacent to the Johnson Spacecraft Center in Houston, Texas.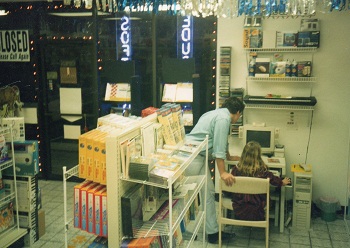 The Little Girl is Krista Thrasher, the 2nd President of Smart Kids Software
That Little Girl is Julie Martin, the past Corporate Secretary of Smart Kids Software
The Smart Kids Software web site was launched in 1997.
The Original Smart Kids Software Web Site - February/1998
Smart Kids Software incorporated in 1998 and was awarded the #23 fastest groWing business in Houston, Texas certificate in 2000 and #54 in 2001, by the City of Houston Small Business Administration. From that point, Smart Kids Software has risen to a point of one of the premier educational technology dealers in the world. The founder and my father, Max Martin, retired in January of 2010, but serves as a consultant to the school sales department.
Smart Kids Software continues to be a "Parent Owned" Company serving the educational software community. We operate on a very narrow margin in order to provide our customers with a much needed service. At Smart Kids Software, customer satisfaction is a must.
Thanks,

Max Martin
President