"Dr. Seuss Green Eggs & Ham"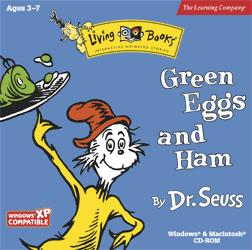 Dr. Seuss Green Eggs & Ham Description

Instill a love of reading in an entirely new way with this exciting adaptation of Green Eggs and Ham. It takes the original number one selling Dr. Seuss book one step further. Meticulously animated from hundreds of sketches, it's filled with 19 interactive pages of delightful scenes, surprises, and activities. Your child directs the action with just a click of the mouse.
Sam-I-Am's Find a Rhyme Game:

Match the object with the rhyme in time to help our heroes near the story's conclusion.

Make a Word with a Fox in a Box:

Aspiring rhymers can create their own three word rhymes.
Product Title & Image

Publisher

Age Level

Requirements/Other

Win

98, XP,

Win 7(32bit)


(Not MAC Compatible)




Instill a love of reading in an entirely new way with this exciting adaptation of Green Eggs and Ham. It takes the original number one selling Dr. Seuss book one step further. Meticulously animated from hundreds of sketches, it's filled with 19 interactive pages of delightful scenes, surprises, and activities. Your child directs the action with just a click of the mouse.

Interactive Storybook Software, Word Recognition, Increased Vocabulary, Reading Comprehension, Computer Literacy

  (832) 741-4244   

(832) 547-2205
(Monday-Friday, 9:00AM-6:00PM, Central Time)
Customer Service Email: Smartkid6@smartkidssoftware.com



Copyright© 1997-2016 Smart Kids Software for all your discount educational software needs! All Rights Reserved