Using FACES in the Classroom
FACES technology is used by thousands of police agencies worldwide – including the FBI and CIA – to identify, track and apprehend criminal suspects.
Easily Create CSI Lesson Plans
FACES 4.0 EDU forensic software program is an ideal support for criminology and forensic classes, giving students hands-on experience in how suspect composites – like DNA, fingerprint and other evidence – are used to solve crimes. Students can use FACES 4.0 EDU to carry out simulated witness interviews, develop facial composites, and even create virtual line-ups.

FACES 4.0 EDU age progression feature.
For younger children, FACES 4.0 EDU forensic software program can be used to teach observational skills that can be critical in increasing personal awareness and safety. FACES 4.0 EDU also has creative applications, such as enhancing drama and reading appreciation by alloWing students to develop images of historic or fictional characters.
FACES EDU Screenshot
FACES 4.0 EDU images can be exported as JPEGs and used to further build skills in computer graphics programs such as Photoshop. Available in English, French and Spanish, FACES 4.0 EDU can even provide a unique approach to second language classes, encouraging students to learn vocabulary to describe and identify facial features.
Disguise your composite in several creative ways.
FACES 4.0 EDU Advanced Features
• Creates billions of photo quality facial composites with a click of a mouse
• Database of 2000 facial features includes Asian, Latino andAfrican-American components
• Compatible with latest MAC 0S and Windows NT operating systems and available in stand alone or network versions
• Composites can be exported as JPEG files to use in graphics programs such as Photoshop
• Light, medium and dark hair tones and facial markings such as scars, moles, piercings and tattoos
• Positioning and zooming tools, and age progression features to refine composites
• Slide show to provide a "virtual lineup": FACES game five different levels to build observation and composite skills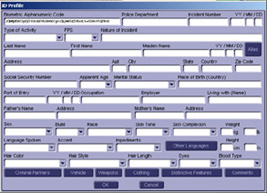 FACES 4.0 EDU suspect profile.