Home screen/Campus page where users can easily navigate from lesson to lesson. ATRT 4 online has four types of lessons that support reinforcing the new keys introduced in the learning lab. If "sequencing" is turned on, students will follow the blinking building which prompts them to the next lesson in the learning order. The maintenance section has all the features for teacher management.

* Larger Fonts makes "All the Right Type Online", perfect for Special Education Students
and those with Vision Problems.

* Work on your typing skills anywhere there's an internet connection!
All the Right Type 4 Online (School version)


Click your brouser's back button
when finished, to return to
Smart Kids Software
All the award Winning features of the original program are now available online to you for anywhere, anytime access. From school or from home you can continue your lesson where you left off to improve your typing skills and save valuable time. Our no nonsense approach and learning methodology allow you to learn how to touch type in the most effective way. All the Right Type, a typing tutor software app, was design especially for school use; therefore, has features that teachers need in schools and districts. School version Features:

Creating/adding Schools
Creating classes and users
Uploading students in "bulk"
Hierarchy of users with permissions
Creating your own lessons to share or for your own use
Record keeping for assessment
Timed and speed tests
Keyboarding games
and more

Hand Position

This is a screen shot of a lesson in the Learning lab where new keys are introduced. Animated fingers display proper fingering and reach. Users are then presented with several lines of text which they must type correctly to progress to the next key. If a mistake is made, users will see an animation of the correct fingering and reach.

Learning Lab Building
After completing each line in the learning lab, users will see a report and finger analysis of which finger they need to focus on. The program will prompt users to redo the lesson if they have not achieved the level of accuracy set by the teacher, making this children's typing tutor your best choice.

Practice Pavilion
This is a screen shot of a lesson in the practice pavilion displaying immediate feedback to the student on the line that they have just completed. The error checking algorithm is not letter by letter as in the learning lab so users can type any letter to complete the line. The keys presented are the same keys that they have learned in the learning lab.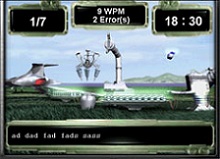 Games
We have two types of games in this typing tutor for kids. Lesson games follow the same letters that students have learned if sequencing has been turned on, and themed games that involve all the letters and numbers on the keyboard. In themed games we have incorporated basic math keyboarding drills as well as dictation type games. All game results are tracked into the database for recordkeeping.

Class Report
For assessment, teachers can view class reports of all students' progress as well as reports for individual students. All reports can be exported into a spreadsheet. When analyzing student results, teachers can delete a lesson so that students will be prompted to redo that lesson the next time they log on.


Import Teachers and Students
Users can be added one by one or imported from a CSV file in this format.

Lessons
Here is a screen shot displaying what a lesson drill file looks like. Teachers can modify the sequencing of what lesson will be presented in what order as well as create their own drill files.
Record Library for Testing Building
This is a screen shot of test scores in the testing building. Student's WPM, Accuracy and Errors are displayed for class comparison purposes.

Record Library of Skill Building
This is a screen shot of skill building scores. Lessons in the skill building are broken into isolated words, sentences and paragraph. Each lesson gets a little more complex and the program will save results after each section into the database.
"All the Right 4" is without a doubt the best choice of online typing tutor for kids.
Certificate
Sample certificate that teachers can generate from the program. This is great for reinforcement and to complement the e-stickers that can be given to students for good work.