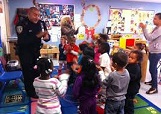 In today's security conscious times, the law enforcement community and public school systems have forged a close bond. One of the most important aspects of successful security for our school children is their ability to maintain an awareness of their surroundings. A big part of that success depends on the tools and training, made available from both.....

The FBI, CIA and US Military are among many agencies using the law enforcement version of our award-Winning crime scene sketch software. So, what does the media and forensic professional think about FACE software?.....

In the years since FACES software was first introduced to the law enforcement community, the internet is packed with story that illistrate its use....

.

FACES in the

Yet another benefit of FACES, Facial Composite
Software: Building Short Term Memory.....